Last Fall, Daniel and I really needed to just get out of the house. We both love to travel and go on adventures, and we had been cooped up so much in 2020. We wanted to go somewhere close enough for a day trip, with abundant outdoor activities, but also with good food and drinks. A cute, walkable downtown was a bonus. We did some research, and we decided to go on a day trip to Morganton, North Carolina. Morganton is a small town on the Catawba River in the foothills of North Carolina, just about two hours from where we live.
Our first stop was Apple Hill Orchard to do some apple picking. They also make their own cider and apple donuts. I think we both enjoyed that part more than the apple picking!
After enjoying some cider and donuts, it was still pretty early in the day, so we went to Catawba Meadows Park. There's actually a ton to do there, like disc golf and even zip lines, but we just walked the Catawba River Greenway. The weather was perfect!
We were very ready for lunch after a couple hours at the greenway, so we headed to lunch at Root and Vine. We had their mussels and the pulled pork with collard greens, and both were delicious! If you're confused about that combination, you can read more about the concept behind the restaurant in this Our State Magazine article. We ate inside, but they do have abundant outdoor seating.
Downtown Morganton is super cute with lots of small shops and places to drink and dine, so after lunch, we explored for a while. Our favorite stop was West Union Art Studios. It's an art cooperative, so there's a gallery and shop, and also the studios of resident artists and musicians. They also showcase work by artists in a local program for adults with intellectual and developmental disabilities. We enjoyed seeing all of the art and even talking to a musician. We bought a vase by Adam MacKay, who owns the West Union Art Studios with his wife.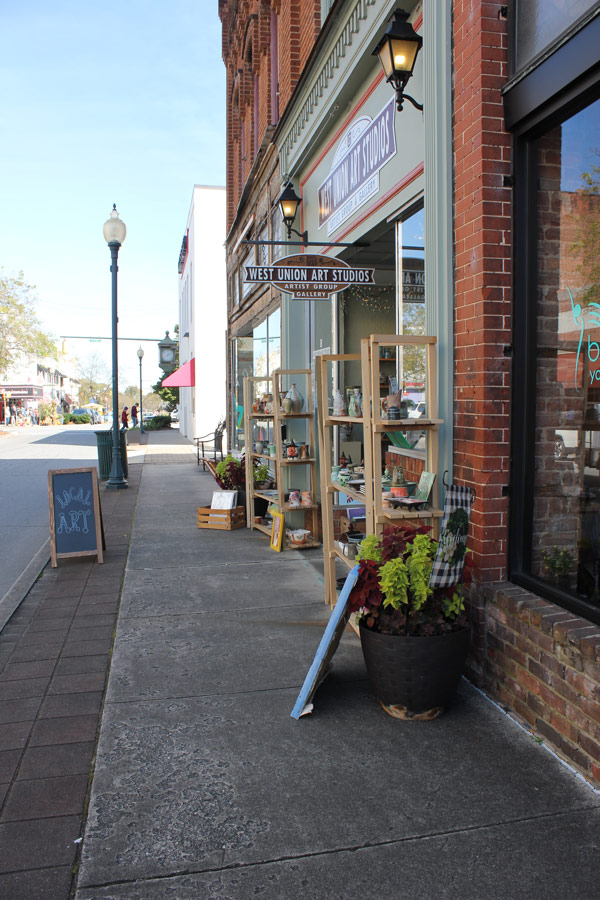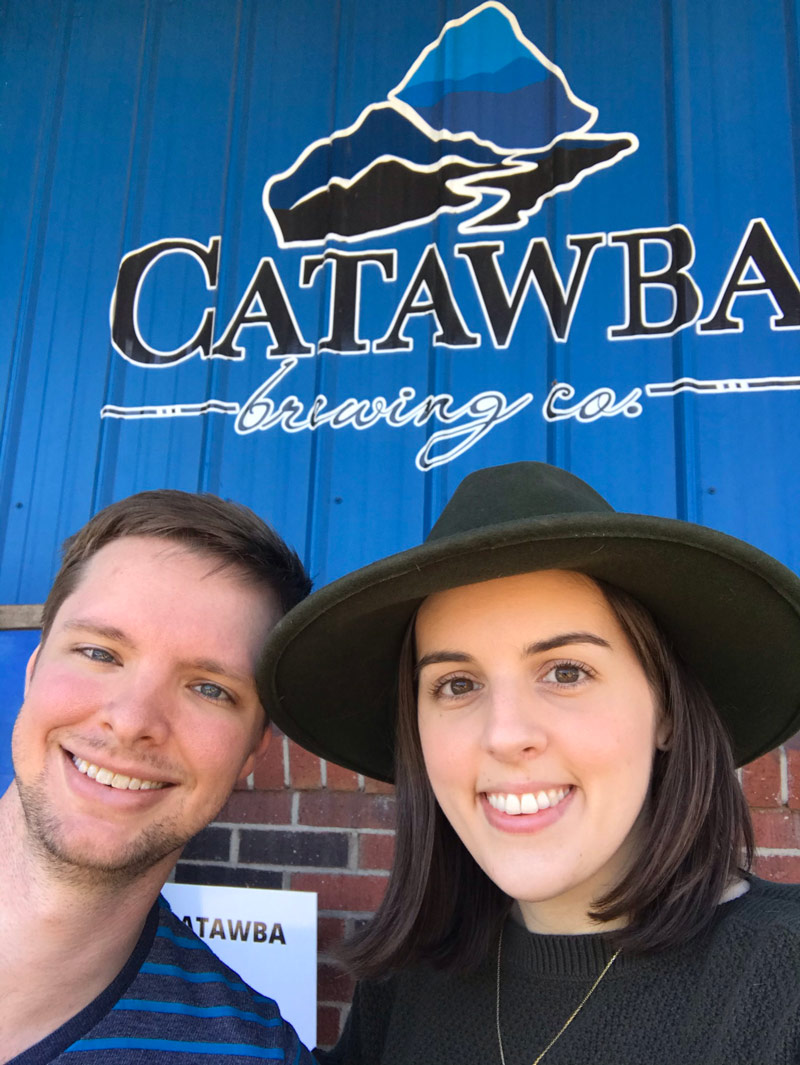 Before leaving Morganton, we stopped at Catawba Brewing. We always like to check out local breweries when we travel. Catawba brewing wasn't new to us, but we hadn't been to the Morganton location. On our way out of town, we stopped at Fonta Flora Brewery at their Lake James location. They do have a Tasting Room in Morganton, but the Lake James location is beautiful! It's 9 acres of land that used to be a dairy farm. We hadn't tried Fonta Flora before, but we LOVE it! Their beers are delicious. Our Favorite was Tip of the Vibers, which is made with Cabernet Sauvignon grapes. It's wonderfully sour! They also had The Brezel Bus (Underground Baking Co) there that day, so we got to enjoy some tasty pretzels along with our beer.
To recap, here are all the places we visited.
Eat/Drink:
Root and Vine – scratch-prepared food that's inspired by both French cuisine and southern comfort food
Catawba Brewing – an established North Carolina craft brewery that has a production facility and tasting room in downtown Morganton
Fonta Flora Brewery – local brewery that uses a lot of seasonal and local ingredients to create unique, delicious beers
Do:
Apple Hill Orchard – apple picking, fresh apple cider and donuts, a gift shop with other apple-themed goodies
Catawba Meadows Park – an expansive park with tons to do for adults, kids, and pets
Catawba River Greenway – a nearly four-mile walking trail that runs along the Catawba River (and alongside Catawba Meadows Park)
Shop:
Downtown Morganton – lots of local shops and dining options
West Union Art Studios – art studio, gallery, music school