Hello and welcome to Tol Tales! If you don't know us or why we started this blog (or why we named it Tol Tales), check out our About page for a brief introduction and a few fun facts about us. We plan to do a Q&A video very soon, so keep an eye out for that for a chance to get to know us more!
Our main goal here is to share our journey renovating our 1925 house, so we're kicking things off with a house tour! This is a bit vulnerable for me (Maggie) because I'm a perfectionist graphic designer who is also very passionate about interior design, and we are nowhere near "finished" with any space in this house.  But hopefully sharing where we're starting will make the progress posts and final reveals more exciting.
A little background first. We bought our house in February 2019 after a lengthy, complicated closing process (we plan to share about that in future posts). We were not searching for a house, but we fell in love with this one instantly and two days later, we put in an offer. Since then, we have renovated the main bedroom, mostly completed a phase 1 bathroom makeover, and completed quite a bit of exterior work. The rest of the rooms  have remained mostly untouched, other than moving in our existing furniture.
I'll walk you through each room and share a few details about our plans, but to preface, the floors need to be refinished throughout the entire house, the beautiful original windows need work, and all of the walls, trim, and doors (other than the main bedroom) badly need to be painted. We put together a video walkthrough. The video is shaky and the lighting isn't great (we'll try harder next time), but it gives you a good idea of how the house is laid out.
Living Room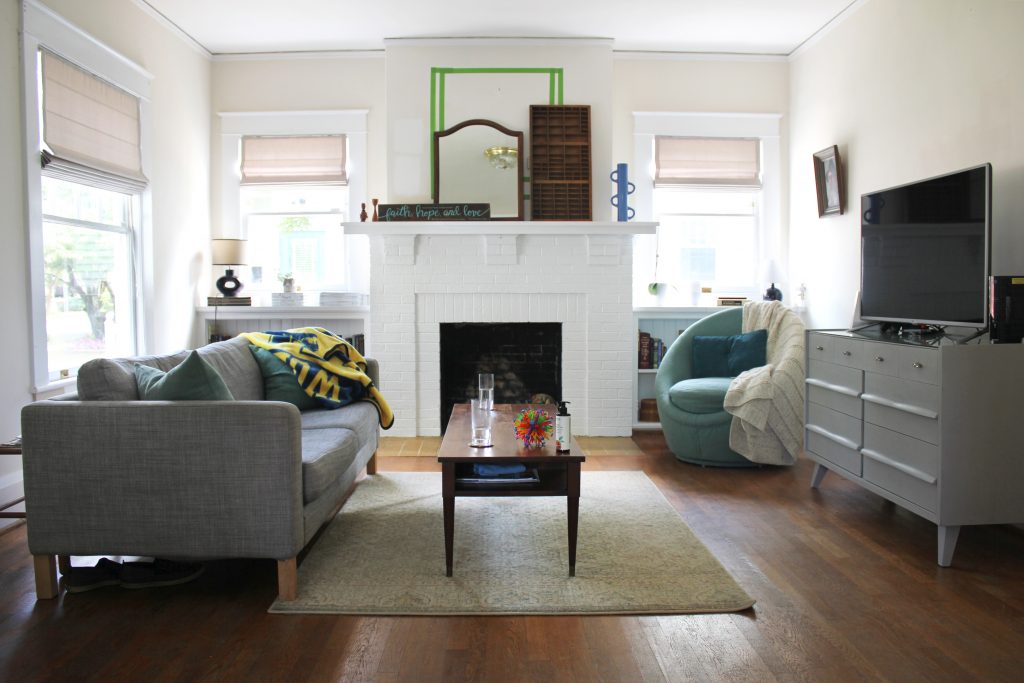 The first photo above is the listing photo and the second is how the living room looks now. We plan to change nearly everything except the coffee table, the blue chair, and the roman shades. The stuff on the mantle is just stuff that landed there when we were moving in, and the green tape is where I was measuring for a piece of art I'll be making. Apart from refinishing the floors, painting, and updating the furniture and decor, we plan to do a fun fireplace makeover and eventually install a gas insert. First to-do item on my list? Get an appropriately sized rug. That small rug bugs me SO MUCH.
Main Bedroom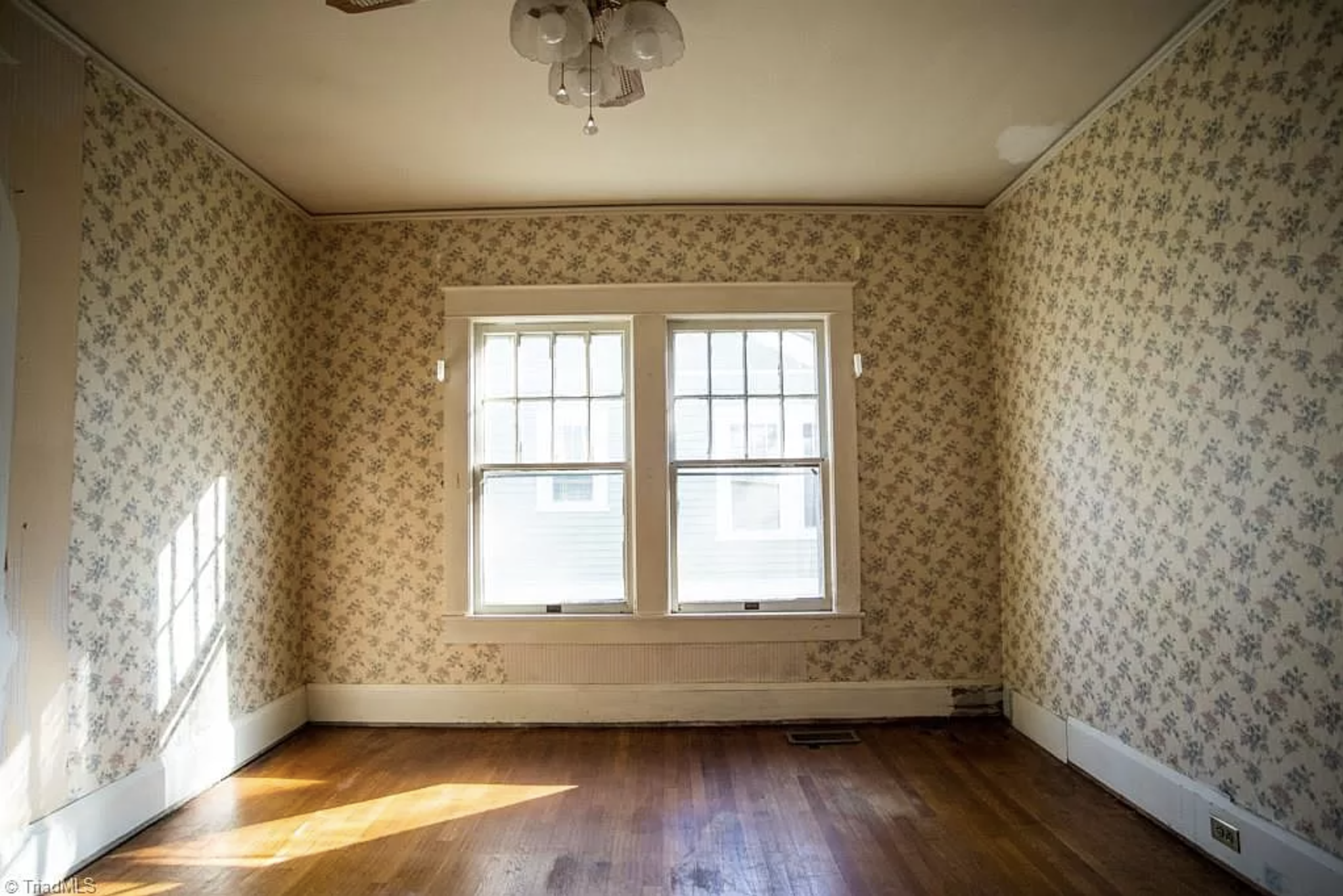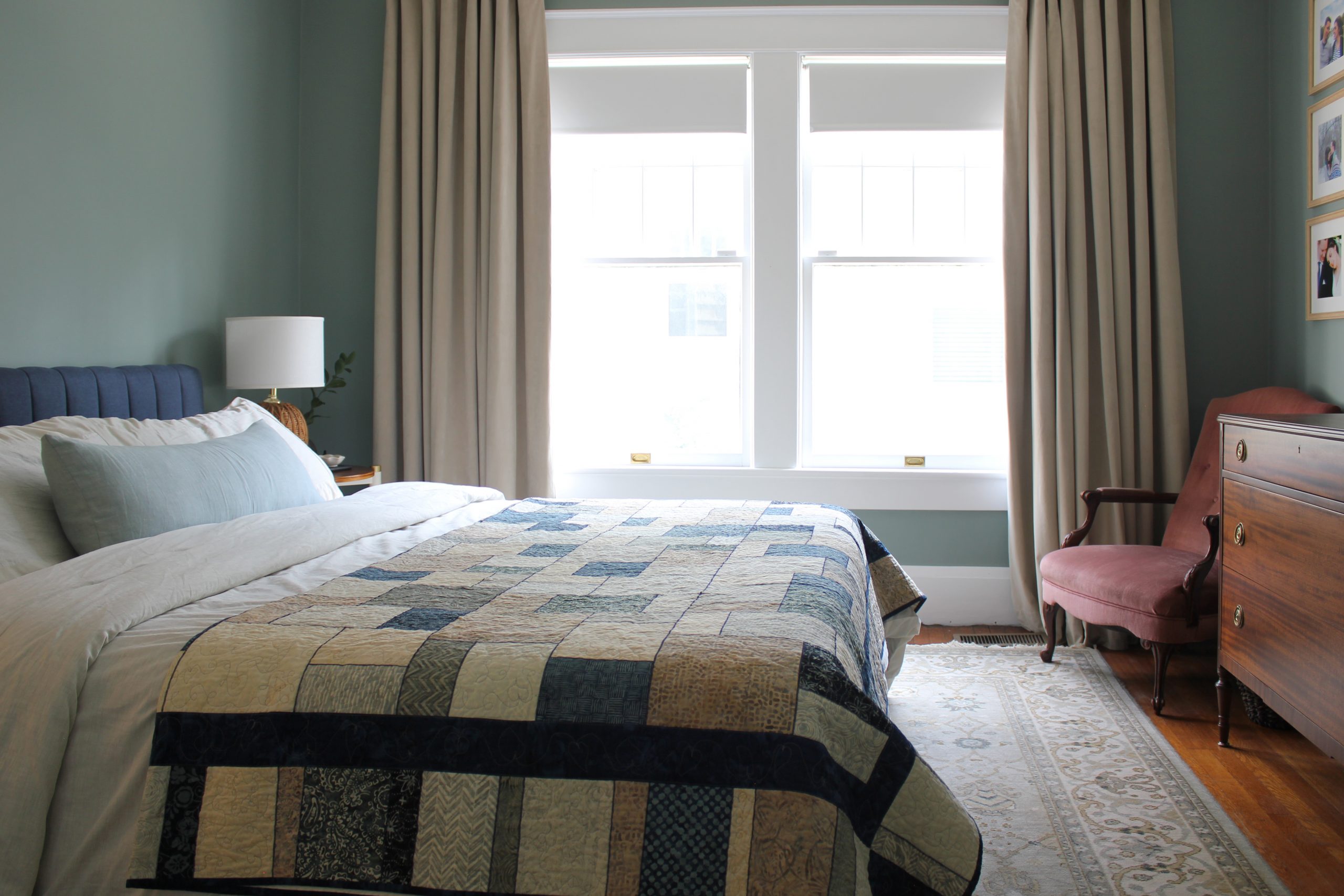 I feel like I'm spoiling a future reveal here, but oh well. The first photo is the bedroom when we bought the house, and the second is where we are now. Two layers of peeling wallpaper! We will share more about that adventure in a later post. This was one of the first rooms we tackled for obvious reasons. It's still not quite where we want it, but it's definitely the closest. We need to install crown molding, hang some art , refinish and reupholster that pink chair, update the bedding (the quilt stays—it was a wedding gift and the inspiration for the room) paint the doors, and add a bit more decor/styling. We are so happy with how this room is turning out!
Bathroom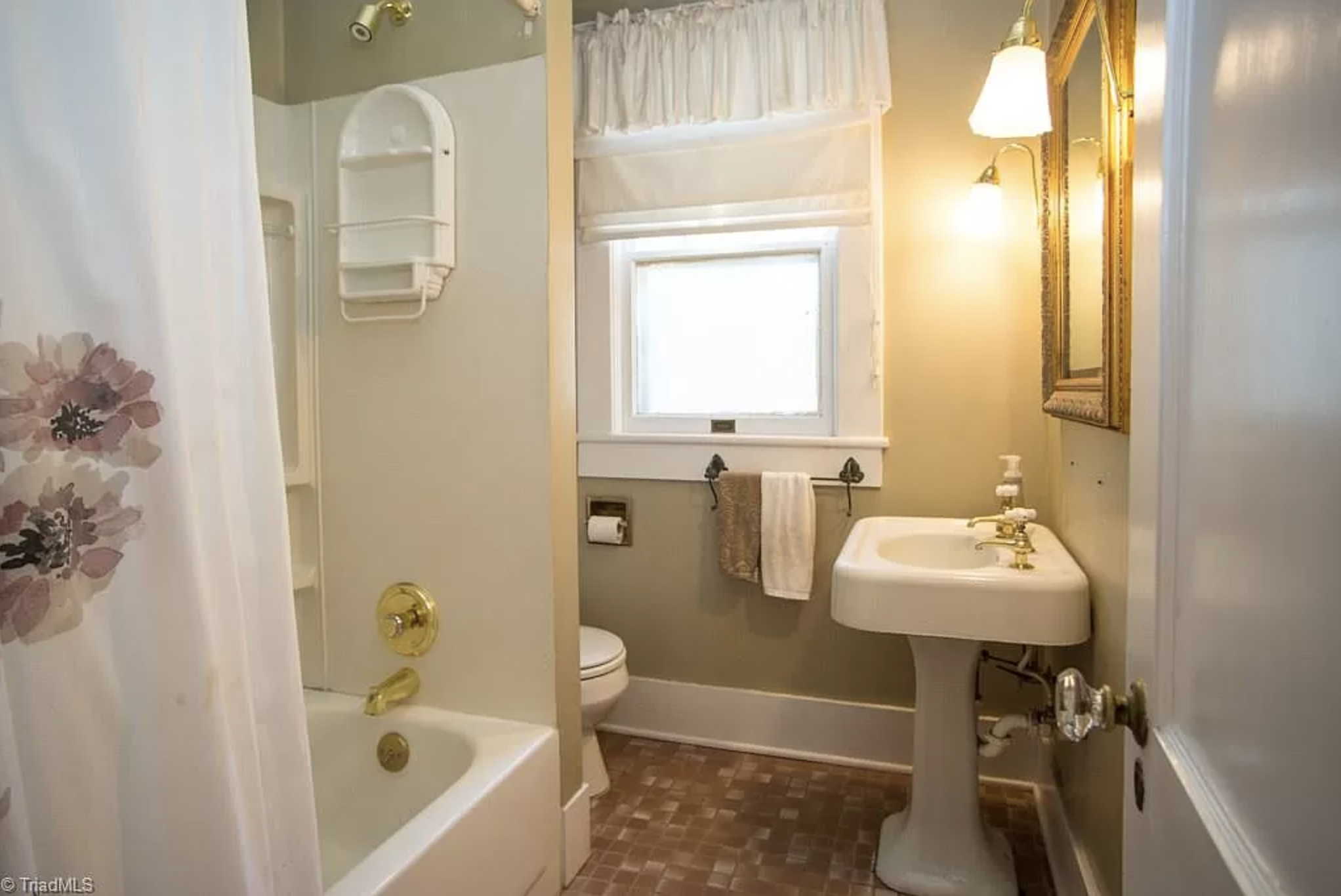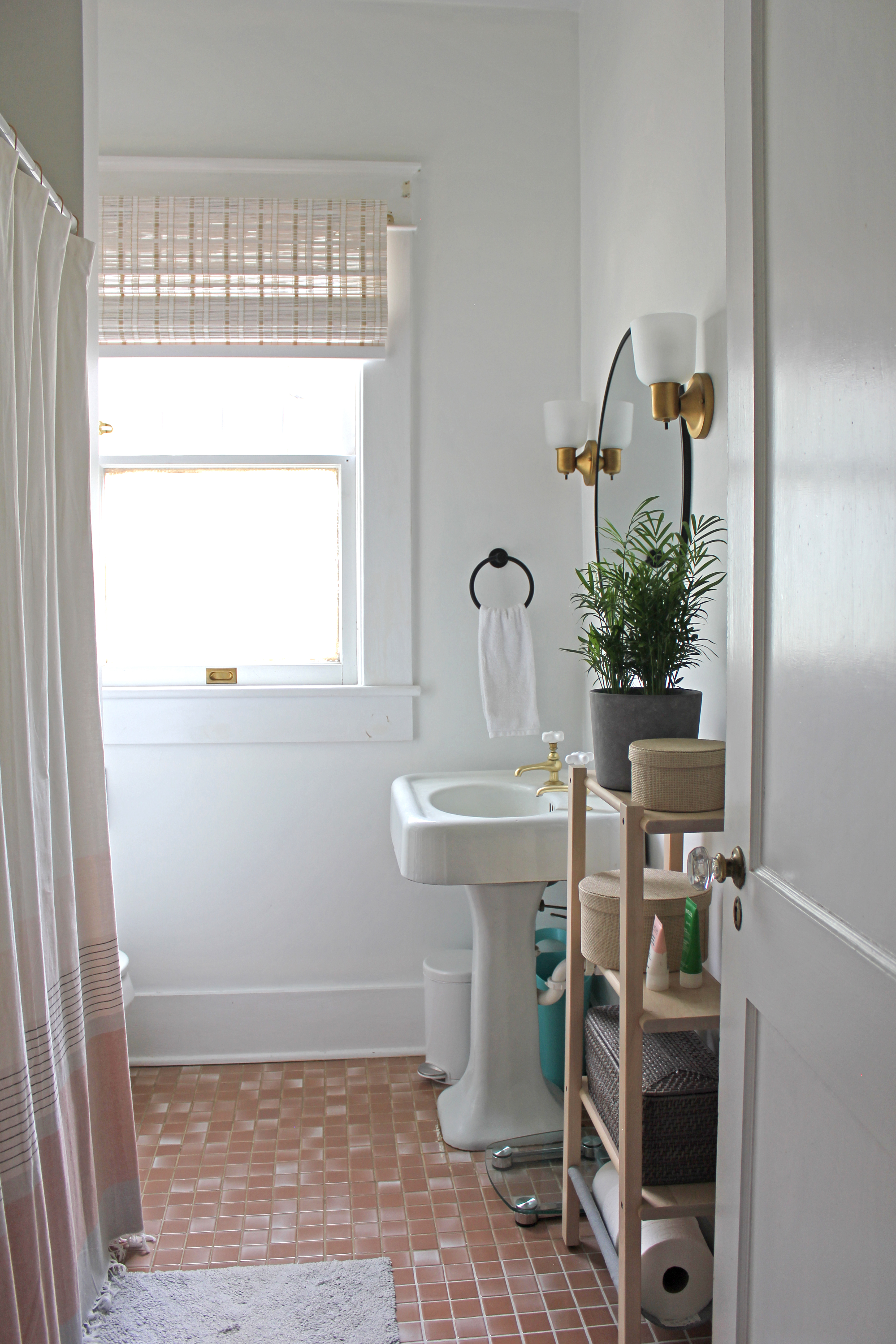 This is the only other room we've updated so far. The walls were green and the floor is pink. The mirror and the sconces (and pretty much everything about this bathroom other than the original 1920s sink and cast iron tub) felt very 80s to me. This is a room we eventually plan to gut and completely redo, but it needed a facelift for my sanity. The phase 1 makeover isn't done yet, but it's almost there. The final reveal is coming soon!
(Future) Guest Bedroom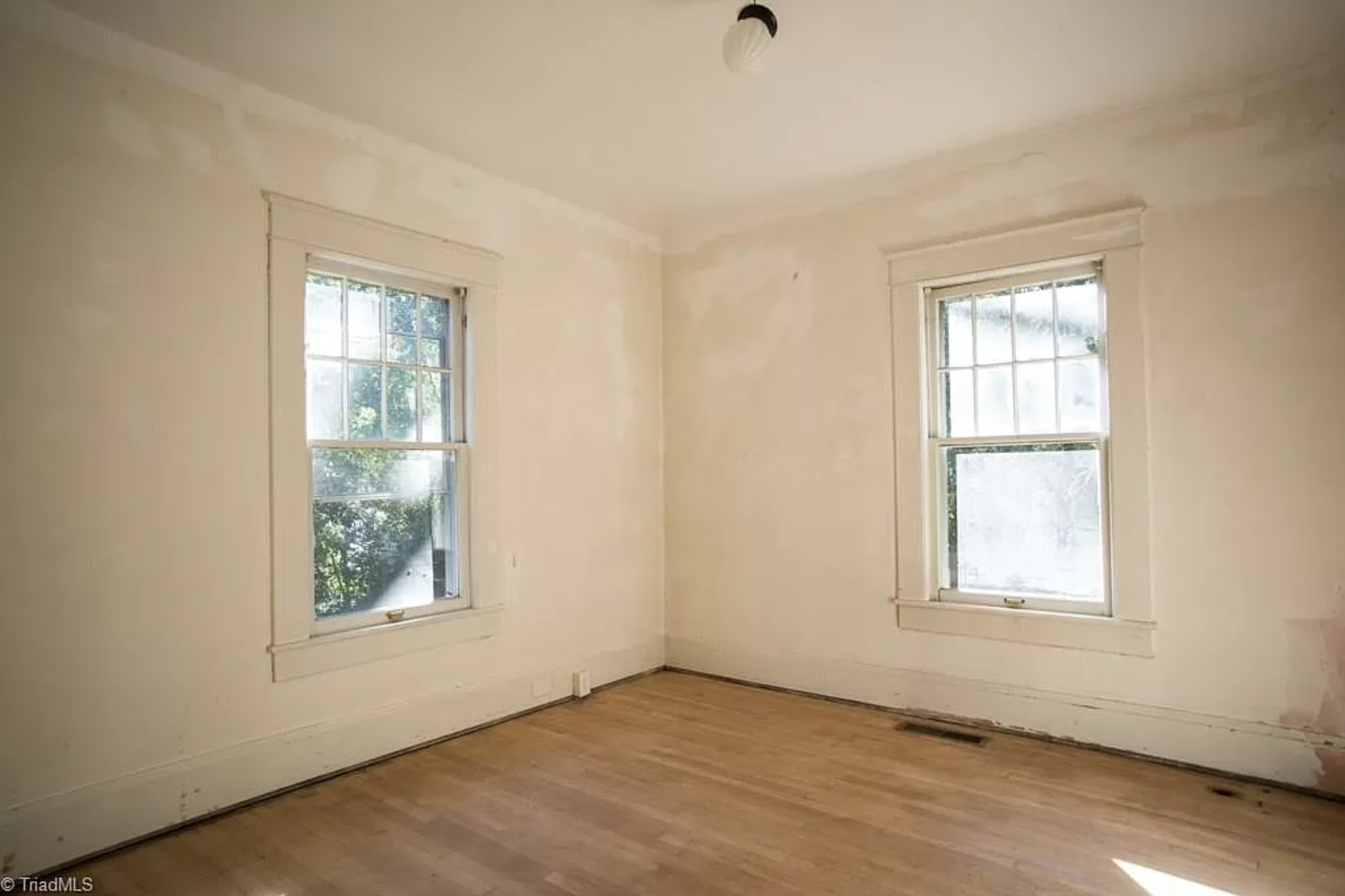 If you watch the walkthrough video, this room is actually a cluttered mess covered in drywall dust. We've mainly been using this room to store tools and renovation supplies, but it makes us sad every time we look at it, so we decided it's our next project. We've started repairing the walls (and repairing the "repairs" of the previous owner), and we plan to paint sometime in the next couple months. We're going to mostly work with stuff we already have to make this a guest room.
Office


What you can't see here is the terrible spackling job on the ceiling, the giant plaster "repair" that's crumbing to the left of the window, and the closet that's painted with super high gloss paint. In here, we plan to get rid of the oversized chair and get a desk/table that is large enough to be a workstation for both of us. The bookshelves will likely live here a while, so we might attempt to make them look more built-in (eventually we would like to finish the attic and turn it into a library, so these books would be relocated). Oh, and that window that's hidden by the bookshelves looks into the covered porch that we plan to convert into a room. We plan to remove that hidden window eventually.
Covered Porch (Future Laundry Room)
This space needs a ton of work (and we need to clean up that mess). This is the first major-ish renovation we plan to do, hopefully soon. It basically has no walls. (see the plywood by the door?) We plan to remove the windows and the siding, replace the floor (and make it level), add real walls, and replace that rotten porch door with an actual exterior door.  This will become our laundry room. I am VERY excited to have our washing machine on the main level. The door in the foreground of the photo I plan to restore and use as our front door.
Kitchen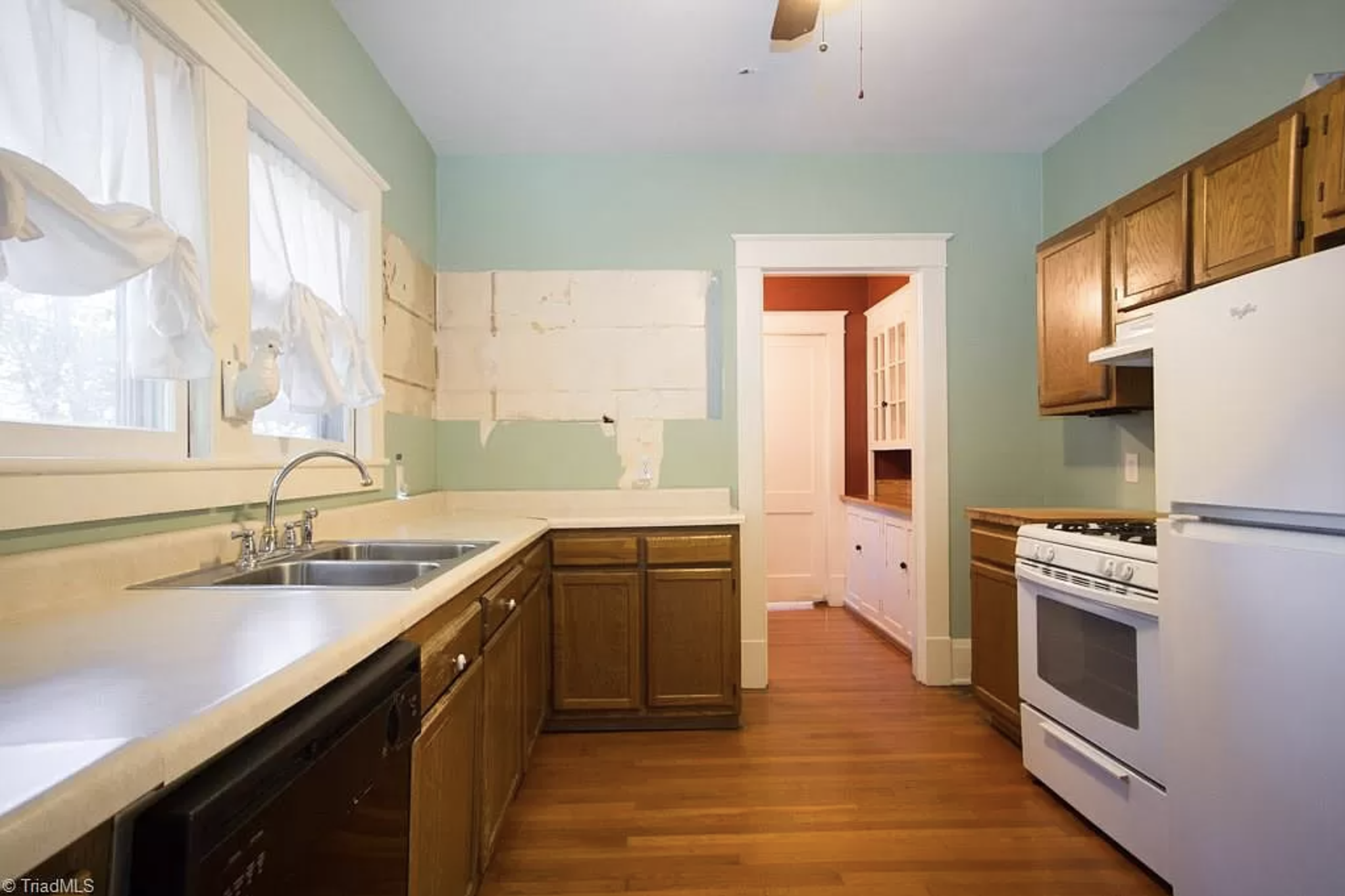 This is the kitchen before we moved in. The walls were painted and repaired before we closed, and we replaced the dishwasher shortly after moving in. We also removed the curtains. Otherwise, this room is basically the same. This will be another major renovation, but we will probably do a phase 1 (paint the cabinets, hang some shelves, replace the appliances, etc.) until we can afford to completely redo it.
Breakfast Nook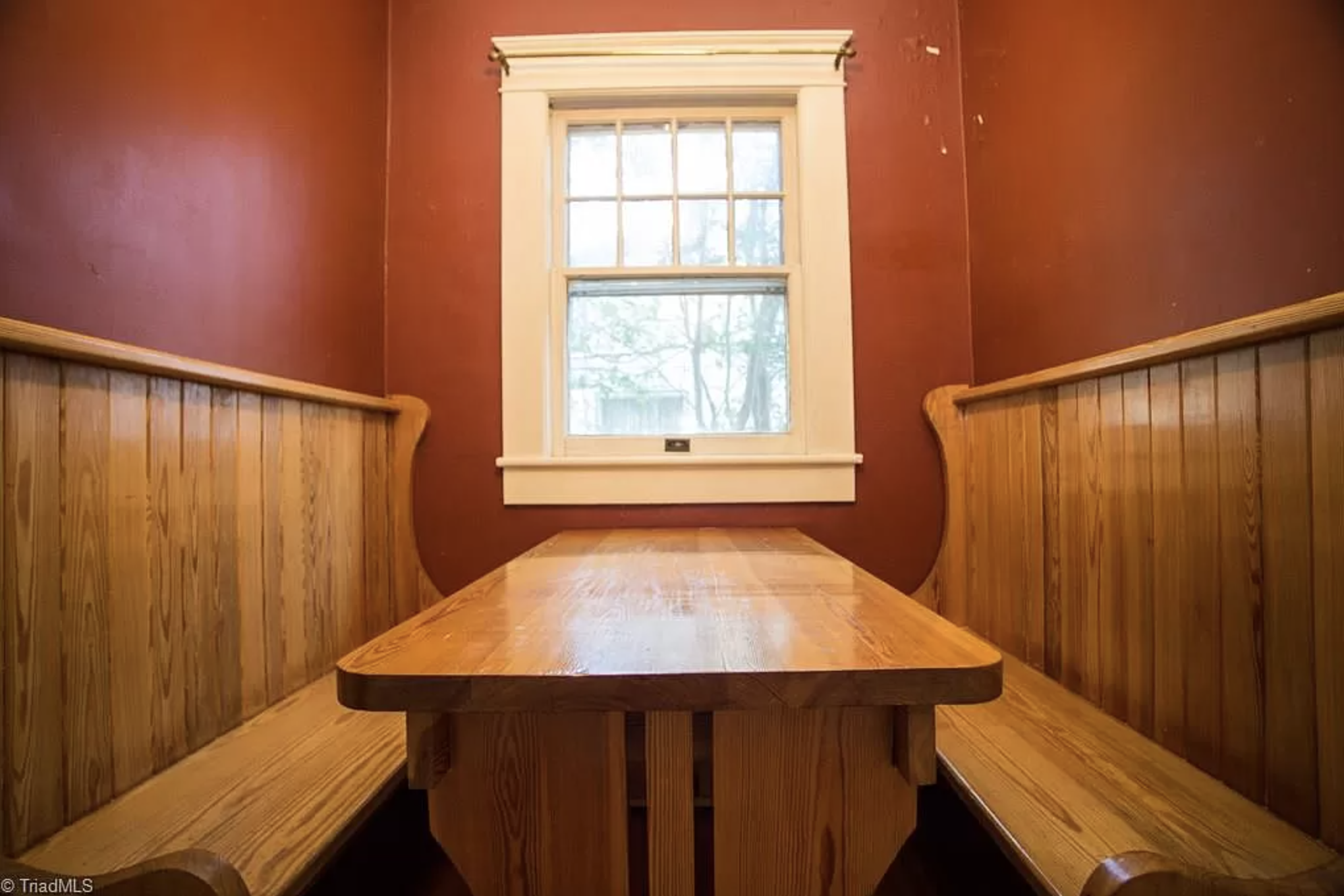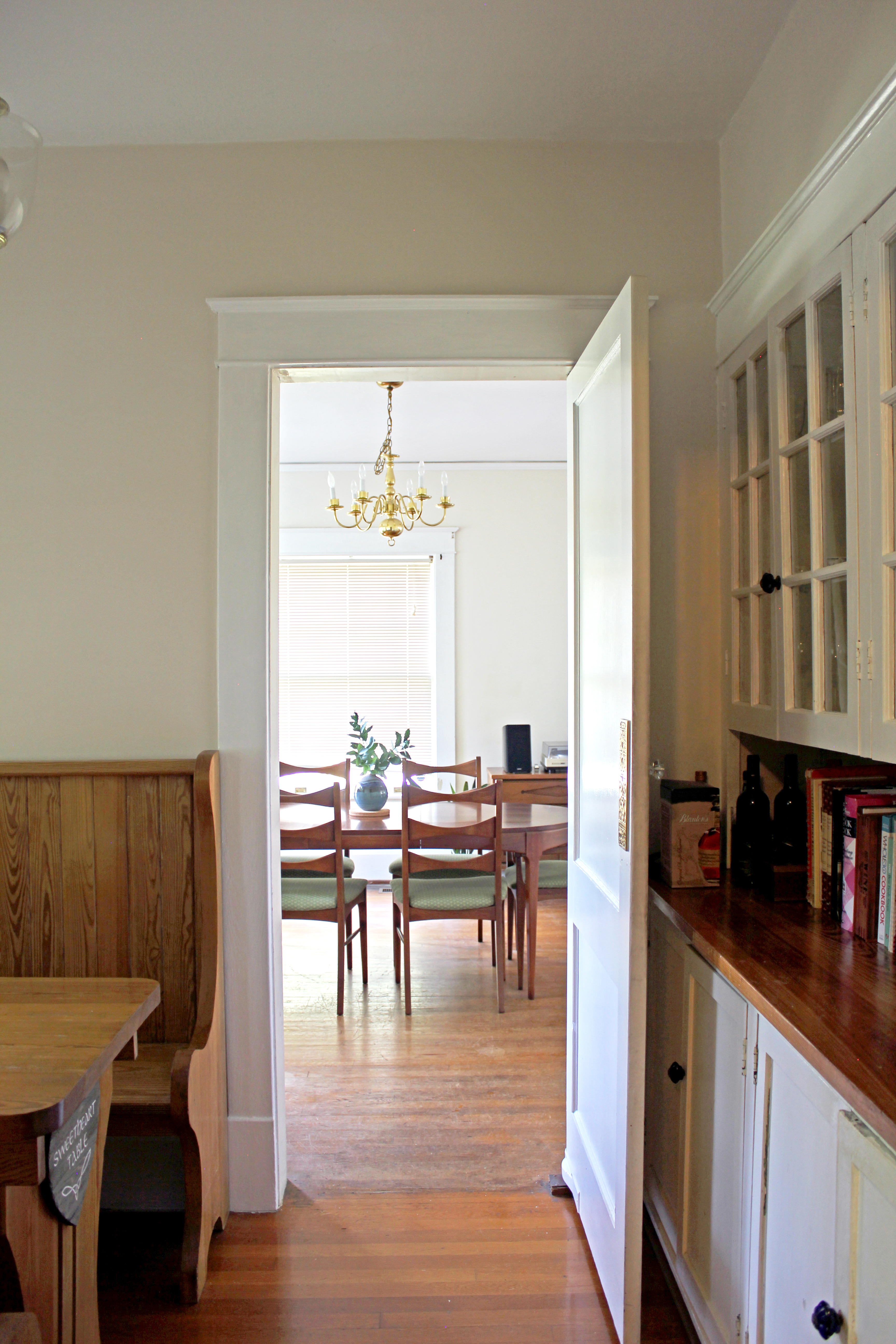 This is one of our favorite rooms in the house! The built ins are staying but we will eventually replace the countertops and backsplash to match whatever we do in the kitchen. We will also paint the cabinets and install new hardware. We've debated replacing the table and benches with something new/custom, but I may just sand them down and reseal or paint them. We already have a new pendant light for over the table that we have yet to install, and I want to do a fun wallpaper in here.
Dining Room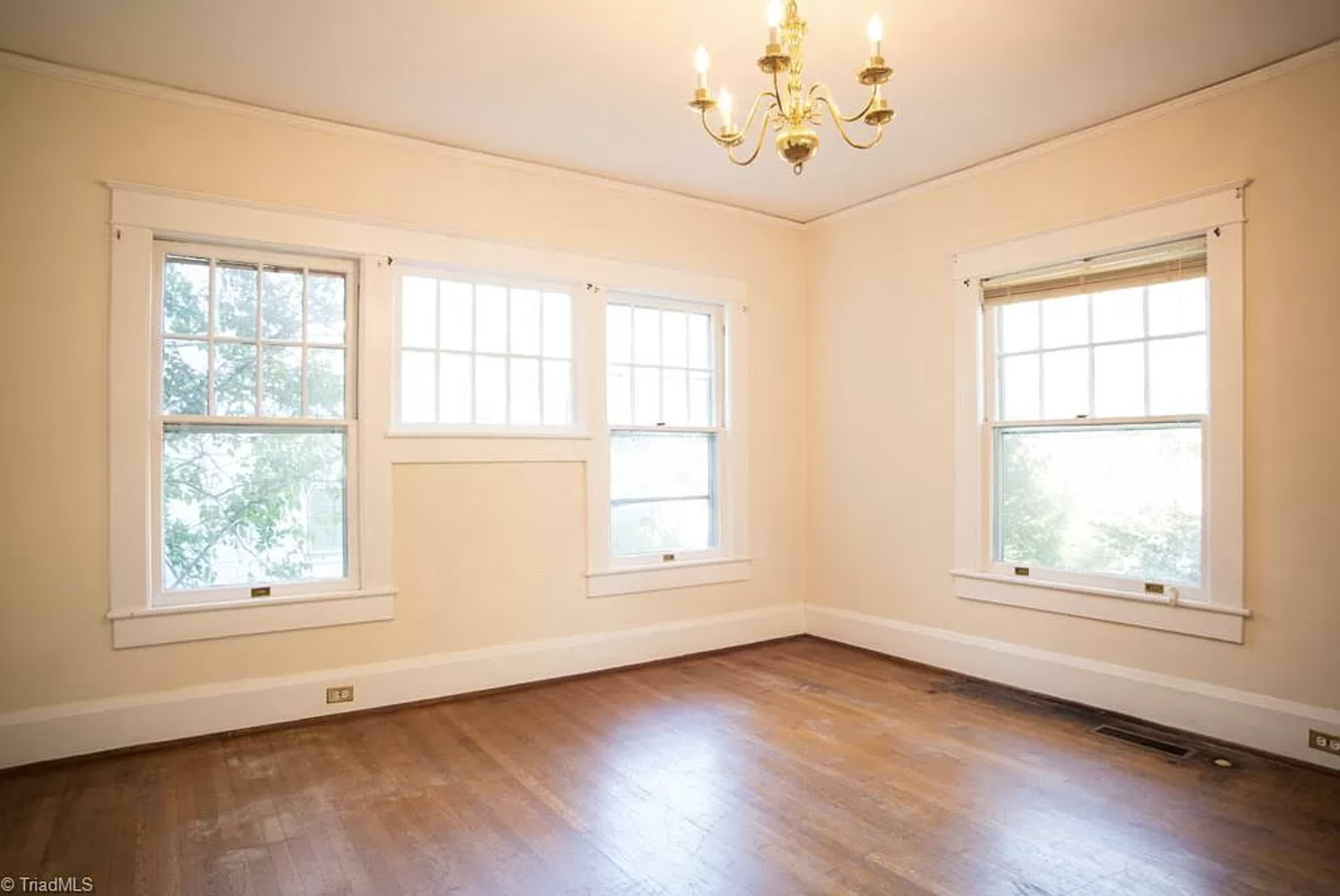 This is the last room in the tour. If you go through those french doors on the right, you will be back in our living room. I love that table and those chairs! They were a very exciting estate sale score. I'm planning to reupholster the chairs. The fabric is actually in great shape, but the color doesn't work with my plan for this room. I also plan to paint that buffet that the record player is on. We will add a rug, art, roman shades (we already have them), maybe curtains, a new chandelier, and eventually an upright piano to replace the electric one. (Aside: Someone was selling my DREAM piano locally on Facebook Marketplace a few months ago. It's a 1960 limed run Baldwin Acrosonic mid-century piano. I've only ever seen them online for thousands of dollars, and this person was selling it for under $500. It sold super fast so I missed out on it. Still sad.)
I didn't include the attic in the photos, but watch the walkthrough video for a peek at that. As I mentioned, we would love to eventually finish the attic and make it a library. We would also like to put in a half bath and a sound studio. I also didn't include the basement, so just picture a large space with brick walls and a mostly dirt floor. We have no plans to finish the basement.
We already have lots of posts planned, so subscribe to our blog or follow us on instagram (@toltales) for updates. Which room transformation are you most excited to see?