The time is here! We've always known we want to turn our sleeping porch into a laundry room, but other projects have taken priority. Those other projects have had a big visual and functional impact on our house—beautifully refinished floors, more efficient HVAC, painted walls and trim (in a few rooms), cleaned up landscaping, a new back porch, our mini bathroom makeover—but this is the first project that I feel like is going to have a real noticeable impact on how we operate day-to-day.
We currently do laundry in our unfinished basement. Not only is it yucky and spidery down there, but I don't feel safe carrying baskets of laundry down the stairs. Daniel and I split chores. He's in charge of dishes, and I'm in charge of laundry, but he has been kind enough to do most of the laundry since we've lived here (though I still fold it and put it away). This will solve that issue, as we will finally have our washer and dryer on the main level!
This is going to be a bit of a slow project (as it seems they all are) because we hired contractors to do the structural work, plumbing, and electric, then we will do the tile, paint, trim, etc ourselves. There will likely be three phases. Phase one will be the contractors/plumber/electrician getting the room ready (August). Phase two will be us tiling and adding trim. Phase three will be adding in storage, such as cabinets and shelves. Phase three will happen after we've had time to use the space and make final decisions on how we want it to function.
Since it will likely be a few months before we have a pretty new room to share, I put together a mood board of my vision for the space. The tile has been ordered, so the rest of the design is built around that.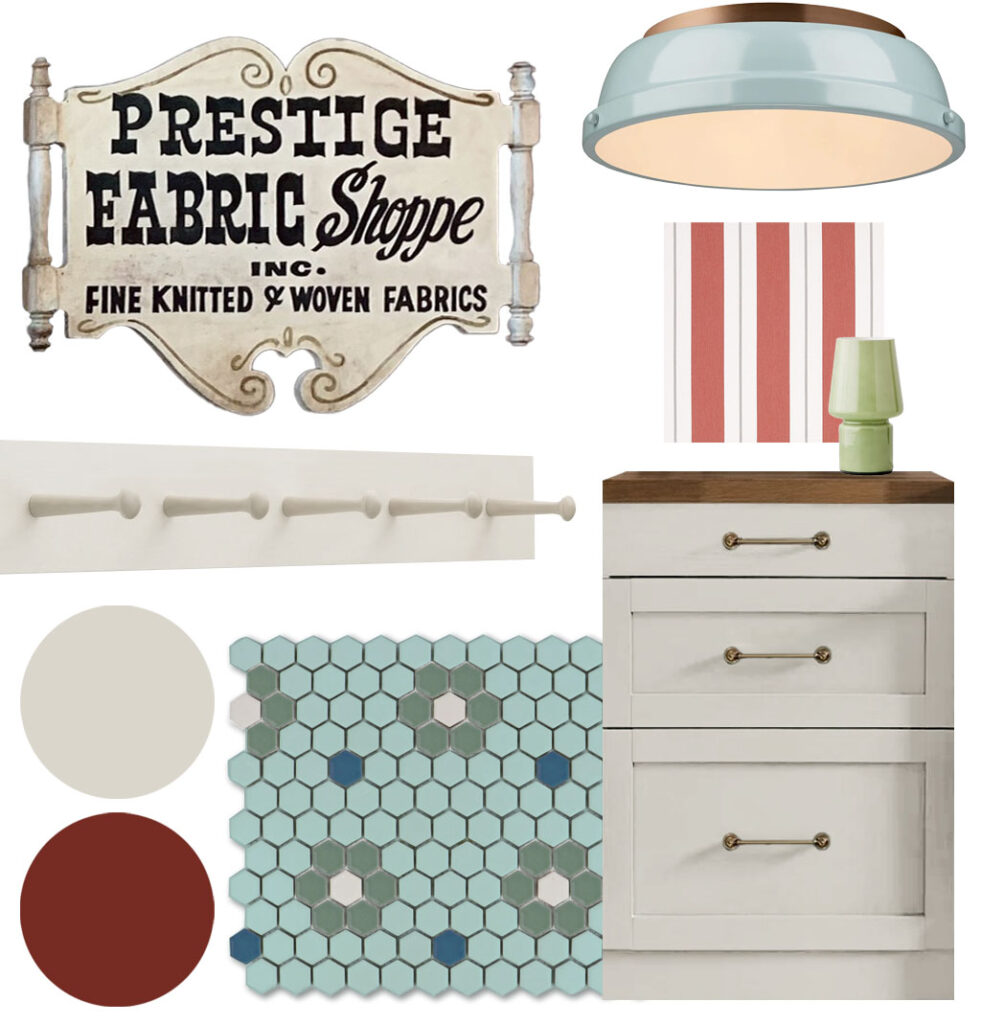 Here's the plan:
The tile is a custom design we created. We'll share more about that once we install the tile and are certain we love it.
The walls will be white. The trim and any cabinets or shelves will be Benjamin Moore Balboa Mist (we're using this color for trim throughout most of the house). For the back door, I think we're going to do a brick red, probably from BM's historic collection. This was inspired by our current storm door in that room. It's rotten and literally falling apart, but when I saw the color of it with the tile, I thought they looked so good together!
We're pretty certain we want to do at least one base cabinet for storing laundry supplies and things we use on our back porch. We also want to do some open shelves, a peg rail, and a built-in bench, since we want this to also function as a mudroom. For the bench, I think it would be fun to have a cushion that brings in more of that red color. I like the stripes in the mood board, but I'm going to look at more options too.
Daniel and I both like this enameled flush mount that ties into the sea foam color in the floor tile. I also think a little lamp or nightlight would be nice in here.
Lastly, no space is complete without art and vintage finds! I bought this vintage fabric shop sign from a salvage shop a few months ago, knowing it would be perfect for adding some character to the laundry room. At the time, I had no idea when we'd be renovating the room, but I knew I had to have it.
Here are a few photos I collected that have inspired how I'd like to approach the built-in shelves and bench (click photos for original source).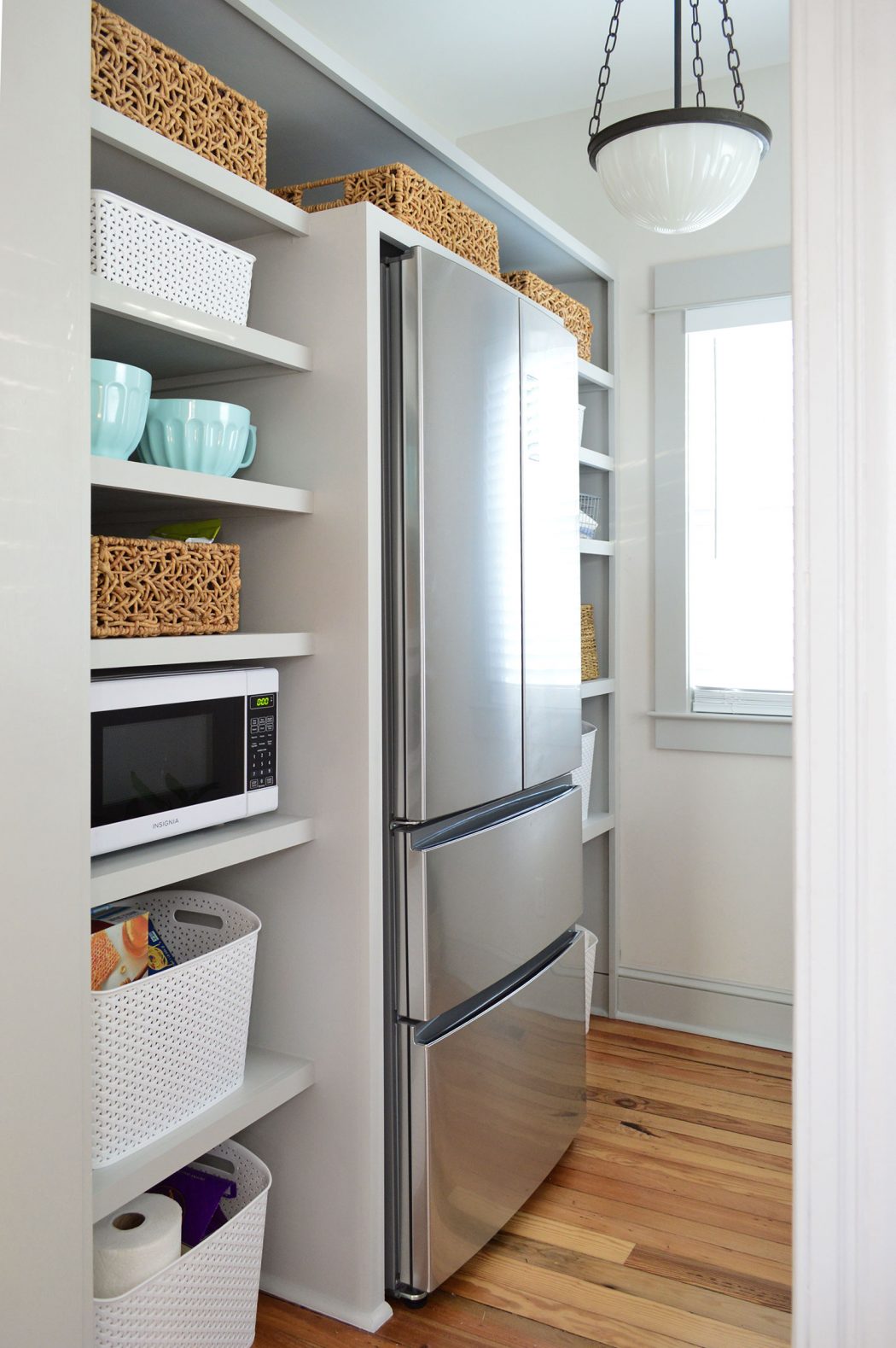 Yes, this is a pantry, but it's also a small room with a big appliance. Imagine a washer and dryer where the fridge is. I like how the built-ins look here and how they integrate with the fridge (or washer/dryer in our case). We wouldn't do so many shelves, but we'll likely reference this tutorial once we're ready to tackle this detail.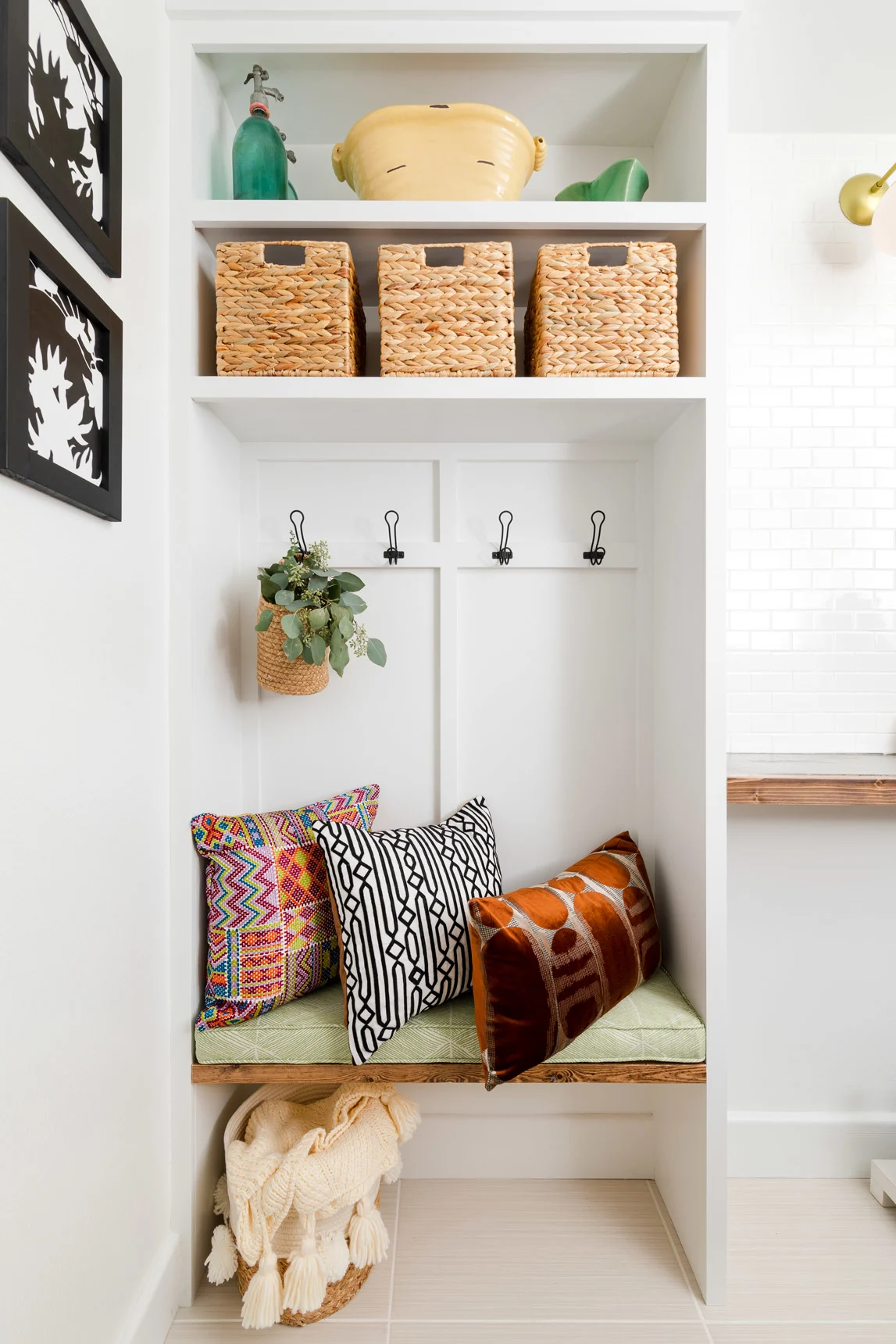 To the left of our washer and dryer, we want to do a bench with shelves and a peg rail above, very similar to this. I also like this inspiration photo because we only have space for a small bench, like this.
To the right of the washer and dryer, we want to do a small lower cabinet with a hanging rod and some open shelves above. This is the closest photo I can find to what we're hoping to do. A place to hang things to dry and a surface to spot-treat stains or quickly fold items will be really useful.
Follow on Instagram for the most current updates about how this project is going!